Support California Wine - 2015 Banshee Pinot Noir, $23
Sonoma County, California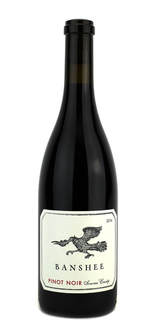 The founders of Banshee source grapes from all over Sonoma County. These are crafted into wines that everyone can afford and enjoy.

A high percentage of Sonoma Coast fruit forms the bedrock of this wine, delivering fine floral and earth aromatics. The silky palate is layered with notes of cherry, dark plum, hibiscus, and a faint coppery minerality. A favorite from our latest California wine tasting!



---
Support California Wine - 2013 County Line Chardonnay, $30
North Coast, California

The team at Radio-Coteau crafts this food-friendly wine using traditional winemaking techniques with the goal of providing a snapshot of cool-climate California chardonnay.

The grapes for this wine are usually split between Sonoma Coast and the Anderson Valley in Mendocino County. You'll find flavors of golden apple, Asian pear, preserved lemon with hints of spice, herbal tea and caramel. Lively acidity is balanced by a rich and round texture.



---
Support California Wine - 2015 Trefethen Dry Riesling, $21
Oak Knoll District of Napa Valley, California


Erika can't stop talking about the fact that Napa Valley is capable of producing such a crisp, dry Riesling that is packed with flavor.

The Oak Knoll District is just north of the city of Napa and enjoys cooling influences from the San Pablo Bay. This Riesling delights with aromas of crisp apple, white peach and fruit tree blossoms. On the palate, it is DRY with an added touch of citrus. Delicious!


---
2016 Domaine Vaccelli "Juste Ciel!" Rosé, $18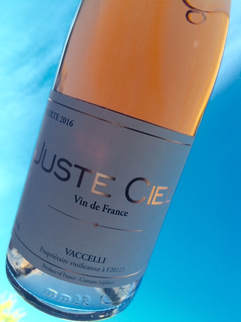 "Juste Ciel" translates into "Good Heavens! - A fitting phrase for this Summer's solar eclipse and an equally fitting name for this heavenly rosé from the island of Corsica.

In 1962, Roger Courrèges started Domaine de Vaccelli when he came from Algeria to the Taravu Valley in the southwestern Corsican appellation of Ajacci. It is now run by Roger's son and grandson, Alain and Gérard Courrèges. Alain and Gerard embrace the Corsican landscape and make their wine to showcase the granite soil. Though not certified, the vineyards have been farmed organically since 2008, with vinification and aging done primarily in stainless steel and concrete vessels.

This rosé displays fresh melon and berry flavors with a saline and stony minerality reminiscent of Corsica's surrounding sea and earth. We found that the "Juste Ciel!" rosé goes really well with vegetables like red pepper, Vidalia onion and portobello mushroom.

---
2011 Gusbourne Brut Reserve, $49


Have you heard about the latest British Invasion - Champagne-style sparkling wines from England? Well, now you can try one of these wines for yourself - the 2011 Gusbourne Brut Reserve. Available at Winestone for $49 per bottle.

The original Gusbourne Estate in Appledore, Kent dates back to 1410. In 2004, Andrew Weeber took over the estate with a clear vision and a single goal: to create English sparkling wines that would stand up alongside the very finest offerings from across the globe. The first vines were planted that year. In 2010 the debut vintages of Gusbourne Brut Reserve 2006 and Gusbourne Blanc de Blancs 2006 were released to critical acclaim. Gusbourne quickly earned a reputation as a producer of outstanding quality wines, with accolades from some of the industry's most exacting critics.

This wine is made from 42% Chardonnay, 36% Pinot Noir and 22% Pinot Meunier. It has spent about 4 years aging on the lees (yeast) giving the wine aromas of warm toast and brioche. On the palate, the Chardonnay provides crisp acidity balanced by the depth of Pinot Noir and the fruit of Pinot Meunier.

The Team at Winestone are excited to bring you this new offering and to add yet another wine producing country to our ever expanding global selection. Cheers!

---
2013 Domaine Zind-Humbrecht Gewurztraminer, $28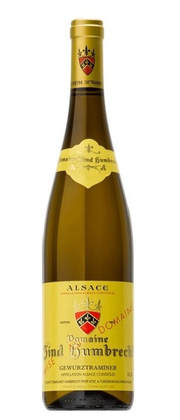 When Mother Nature hands you lemons, you can still make a stunning Gewurztraminer. Some tricky weather during the 2013 vintage in Alsace led to a smaller Gewurztraminer crop with lower sugar levels than usual. However, a skilled winemaker like Olivier Humbrecht uses this as an opportunity to show us a more delicate style of Gewurztraminer.

The nose of this 2013 wine is very fresh and nuanced with aromas of citrus and rose petal. The light sweetness on the palate is well harmonized with some acidity and a medium weight. This is a very easy drinking wine that can be paired with a greater variety of food than usual. Some suggested pairings would be Asian foods, hearty salads, and herbed chicken.

---