2016 Domaine Vaccelli "Juste Ciel!" Rosé, $18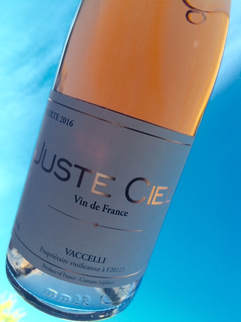 "Juste Ciel" translates into "Good Heavens! - A fitting phrase for this Summer's solar eclipse and an equally fitting name for this heavenly rosé from the island of Corsica.

In 1962, Roger Courrèges started Domaine de Vaccelli when he came from Algeria to the Taravu Valley in the southwestern Corsican appellation of Ajacci. It is now run by Roger's son and grandson, Alain and Gérard Courrèges. Alain and Gerard embrace the Corsican landscape and make their wine to showcase the granite soil. Though not certified, the vineyards have been farmed organically since 2008, with vinification and aging done primarily in stainless steel and concrete vessels.

This rosé displays fresh melon and berry flavors with a saline and stony minerality reminiscent of Corsica's surrounding sea and earth. We found that the "Juste Ciel!" rosé goes really well with vegetables like red pepper, Vidalia onion and portobello mushroom.

---
2016 Grochau Cellars Melon de Bourgogne, $20


John Grochau was first introduced to wine and the winemaking landscape in his early 20's, while racing bicycles for a French team in the Loire Valley. When he returned to his hometown of Portland, Oregon, his appreciation for wine steered him into the restaurant business and then into the wine business. His love for the French Muscadet wines led him to create this wine made with Melon de Bourgogne (aka Muscadet) grapes which would pair well with the local Pacific seafood. The wine is bright, mineral, and earthy with accents of crisp apple, white nectarine, chamomile and white tea. Raw bar, crudo, ceviche, sashimi - all great partners for this wine

---
2011 Gusbourne Brut Reserve, $49


Have you heard about the latest British Invasion - Champagne-style sparkling wines from England? Well, now you can try one of these wines for yourself - the 2011 Gusbourne Brut Reserve. Available at Winestone for $49 per bottle.

The original Gusbourne Estate in Appledore, Kent dates back to 1410. In 2004, Andrew Weeber took over the estate with a clear vision and a single goal: to create English sparkling wines that would stand up alongside the very finest offerings from across the globe. The first vines were planted that year. In 2010 the debut vintages of Gusbourne Brut Reserve 2006 and Gusbourne Blanc de Blancs 2006 were released to critical acclaim. Gusbourne quickly earned a reputation as a producer of outstanding quality wines, with accolades from some of the industry's most exacting critics.

This wine is made from 42% Chardonnay, 36% Pinot Noir and 22% Pinot Meunier. It has spent about 4 years aging on the lees (yeast) giving the wine aromas of warm toast and brioche. On the palate, the Chardonnay provides crisp acidity balanced by the depth of Pinot Noir and the fruit of Pinot Meunier.

The Team at Winestone are excited to bring you this new offering and to add yet another wine producing country to our ever expanding global selection. Cheers!

---
2013 Domaine Zind-Humbrecht Gewurztraminer, $28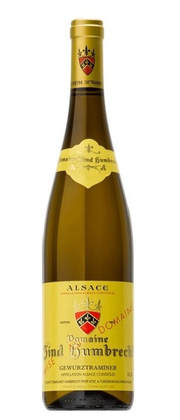 When Mother Nature hands you lemons, you can still make a stunning Gewurztraminer. Some tricky weather during the 2013 vintage in Alsace led to a smaller Gewurztraminer crop with lower sugar levels than usual. However, a skilled winemaker like Olivier Humbrecht uses this as an opportunity to show us a more delicate style of Gewurztraminer.

The nose of this 2013 wine is very fresh and nuanced with aromas of citrus and rose petal. The light sweetness on the palate is well harmonized with some acidity and a medium weight. This is a very easy drinking wine that can be paired with a greater variety of food than usual. Some suggested pairings would be Asian foods, hearty salads, and herbed chicken.

---
2011 Marqués de Riscal Rioja Reserva, $22


From legendary producer Marqués de Riscal comes this traditionally made Rioja Reserva for just $22/bottle.

As one of the first commercial "bodegas" established in the Rioja region, Marqués de Riscal manages to stay true to its 150+ year history while also fostering innovation. Take for example, the wire netting that covers the bottle. This was developed by Marqués de Riscal to prevent counterfeiters from refilling the bottle with lesser quality wine and reselling it. If there was no wire netting, the wine inside was probably fake. These days, there's less risk of counterfeit wine, but the wire netting remains as a symbol of Marqués de Riscal's tradition and innovation.

A more modern example is their "city of wine" in the town of Elciego. Amongst the vines and traditional red tiled winery buildings sits the colorful Marqués de Riscal hotel, spa and restaurant designed by Frank Gehry.

While Marqués de Riscal embraces innovation, their Rioja Reserva is probably their most traditionally made wine. They still blend Tempranillo with Graciano and Mazuelo to provide elegance, balance and structure. The wine spends 2 years in American oak barrels and 1 year developing in bottle before it is released. The nose shows fresh cherry and raspberry aromas interwoven with earthy aromas of graphite and forest floor. On the palate, the wine starts off light with bright acidity and then evolves into a darker, richer finish. This wine would pair nicely with Manchego cheese, Jamon Serrano and herbed lamb chops.

---
2007 Lopez de Heredia "Vina Cubillo" Rioja Crianza, $30

One of the first wineries established in Rioja was the bodega Lopez de Heredia in 1877. Through decades of war, political turmoil, financial crisis, and now the modern pressures of global competition, Lopez de Heredia has remained in the family, and they still make their wines almost exactly the way that they did over 130 years ago. This week we feature the 2007 Lopez de Heredia Vina Cubillo Crianza.

While many wine producers feel the pressure to evolve in order to remain unique, the Lopez de Heredia family differentiates themselves by changing as little as possible. They grow and source grapes from the same vineyards that they have owned for decades. Wood barrels are re-conditioned by hand at the bodega. Wine is racked (moved from one barrel to another) without the use of pumps or modern fixtures. They do not filter the wines but only fine them using egg whites. While other Rioja producers are feeling forced to modernize or to sell out, Lopez de Heredia manages to stick with tradition. How fortunate are we to be able to savor Rioja wines made the same way as they were over a century ago.

Lopez de Heredia stays true to another Rioja tradition - the wines are not released until they feel they are ready to drink. Legally, for a Rioja to be labeled "Crianza", it needs to be aged at least 1 year in oak and 1 year in bottle before release. However, for the Lopez de Heredia Crianza, the wine ages 3 years in barrel and about the same time in bottle before release. This means that their youngest red wine is being aged like the Gran Reservas of many other producers. That's pretty special. Indeed, the 2007 Lopez de Heredia Vina Cubillo Crianza drinks more like a typical Gran Reserva than a Crianza. The color is a beautiful garnet with aromas of dried cranberries, cherries and fig with hints of dried flowers, herbs like dill, thyme and verbena. Underneath are layers of earthy, meaty, savory flavors. The wine is full-bodied with soft, velvety tannins, uplifting acidity and a bit of espresso on the finish. This is a beautiful example of classic Rioja. Enjoy!

---